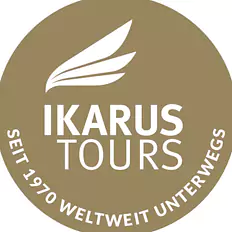 All exhibitors
Ikarus Tours AG
Seit 1970 weltweit unterwegs in rund 130 Ländern unserer Erde. Zu einer Zeit, in der viele Länder noch weisse Flecken auf der touristischen Landkarte waren und die Welt noch nicht so eng vernetzt und mobil war, nahm IKARUS TOURS als Familienunternehmen und Pionierveranstalter seine Reisegäste mit in die entlegensten Winkel der Welt. Die weissen Flecken sind 50 Jahre später ein bisschen weniger geworden. Wir bieten für unsere Reisegäste Entdeckungs- & Erlebnisreisen, Aktivreisen in kleinen Gruppen sowie Individualreisen an. Wir freuen uns auf Sie!
Company contact
Zähringerstrasse 22
8001 Zürich
Switzerland
We're always happy to help
Viewing this video may result in cookies being placed by the vendor of the video platform to which you will be directed. Given the refusal of the deposit of cookies that you have expressed, in order to respect your choice, we have blocked the playback of this video. If you want to continue and play the video, you must give us your consent by clicking on the button below.
I accept - Launch the video